You need to be logged in to earn cashback.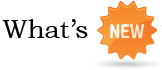 Don't Miss Out!
8% off on car hire with code: Flexi8 until 31st May...
Save using the following codes - £2.50 off for new customer: WINGEN08VL, 20% off on car parkin.....
Extra Cashback until 24th May...
Extra cashback until 30th June...
We are ready and welcoming you back on board our open- top tour buses. You can now book for the Lond.....
Extra cashback!..